Press Release
23 July 2020
Requirement to wear masks is extended, tighter controls and local lockdowns: a combined national and local approach to curb the coronavirus epidemic
On 23 July, the National Security Council (NSC), enlarged to include the Minister-Presidents, met to take stock of the health situation and to take the necessary measures.
In view of the epidemiological indicators, it was decided not to trigger phase 5 of the phase-out plan. Therefore, the maximum number of people present at receptions and events with an audience will remain the same. Regarding fairs and exhibitions, it is expected activities will be able to resume on 1st September, subject to strict conditions and depending on how the epidemic evolves.
The NSC has taken a series of measures that will apply throughout the country from Saturday 25 July.
In addition to the obligations already in force, wearing a face mask will also be mandatory:
at markets, flea markets and fairs;
in shopping streets and any high-traffic private or public location defined as by local authorities;
in all publicly accessible parts of public buildings;
in restaurants and bars, except when people are seated at their table.
Wearing face masks is strongly recommended in all other cases, especially in situations where social distancing cannot be maintained.
Night shops will have to close earlier, i.e. at 10 PM;
 
Customers of bars and restaurants will also be asked to leave behind their contact details so that they can be notified quickly in the event of an outbreak. This information will be destroyed after 14 days and may not be used for any other purpose than to control outbreaks.
In general, it was decided that controls will be strengthened.
As the epidemiological situation differs between municipalities, local authorities have a major role to play.
They must act in accordance with the ministerial order. However, they may consider taking additional precautionary measures in consultation with the Regions and Governors, so as to ensure overall consistency.
However, if epidemiological outbreaks occur on their territory, local authorities have complete latitude to act directly. The Regions shall share healthcare data and provide mayors with a roadmap of gradual measures that can be taken at the municipal level, ranging from the closure of a single establishment to implementing local lockdowns. Naturally, ensuring visual and verbal ways of communicating the additional rules of the local authorities is their responsibility. Their efforts must be supported, in a spirit of collaboration between all levels of government.
Finally, it is essential to remember that the six "golden rules" still apply:
comply with hygiene measures;
favour outdoor activities ;
remain vigilant with regard to vulnerable people ;
maintain a safe distance (1m50) ;
limit contacts to 15 people per week;
limit get-togethers to 15 people.
With regard to the bubble of 15 people, it was pointed out at the press conference that this rule must be complied with to limit the rapid spread of the virus. All citizens should be able to list all persons with whom they have had close contact in the previous week.
Requirement to wear masks is extended, tighter controls and local lockdowns: a combined national and local approach to curb the coronavirus epidemic (press release)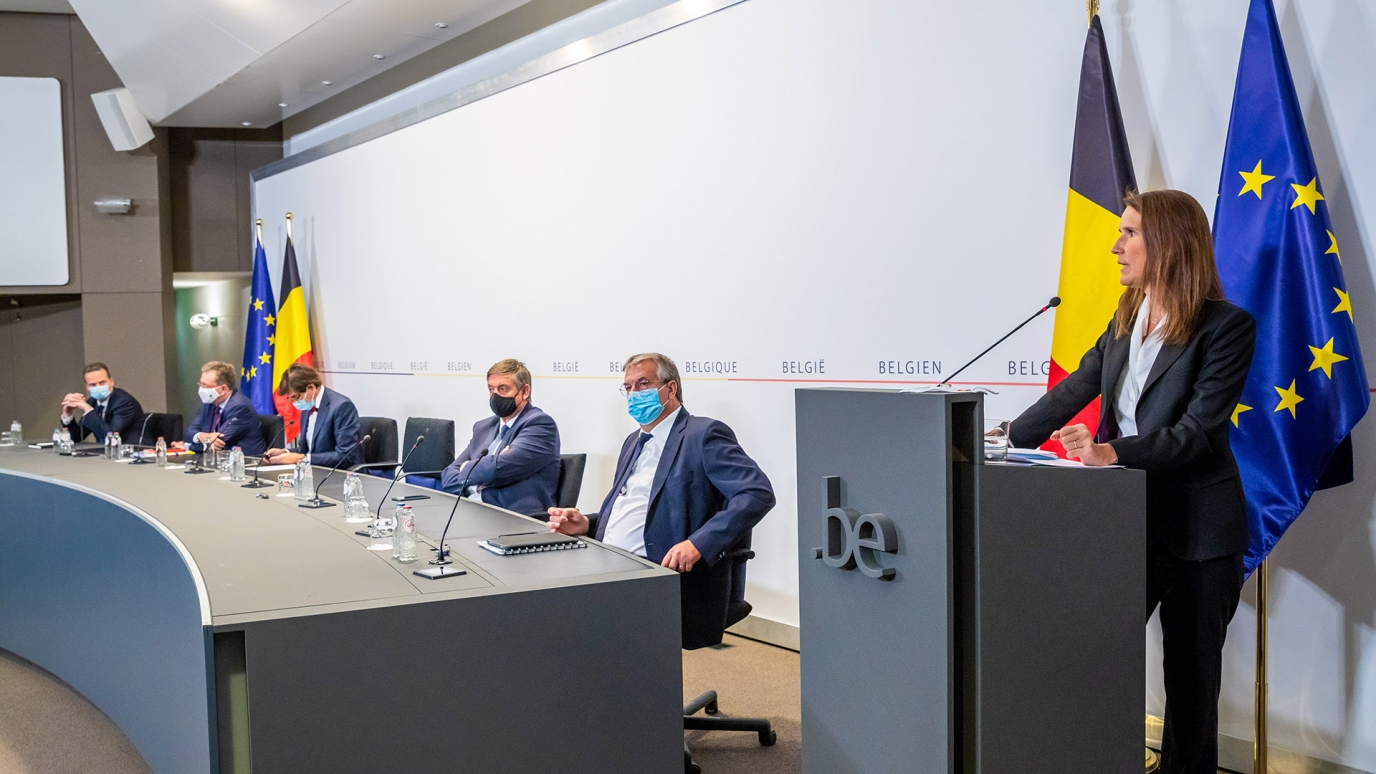 © Sophie Wilmes